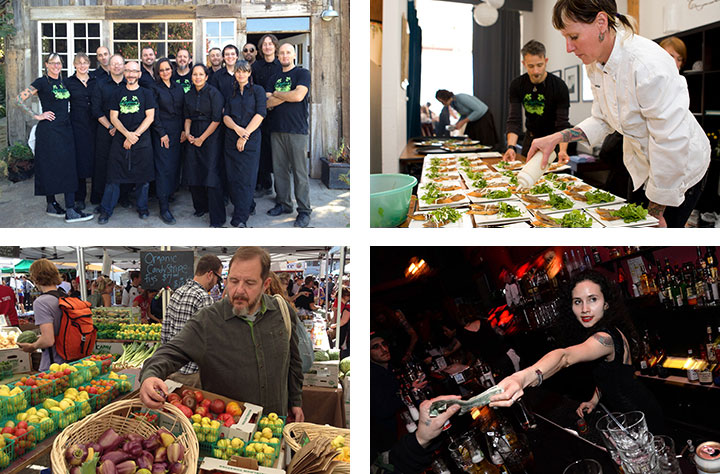 . . .
"It is truly rewarding for me to collaborate with you in celebrating life's significant moments through meaningful connection and the powerful experience of sharing a meal."
. . .
The Chef Stephanie team is a diverse group of talented chefs, servers, bartenders and managers who share core values. First, we are passionate about food and proud to prepare and serve our high-quality menus at your events. Second, we find joy in being of service and love to take great care of our guests, seeing to their every need. Third, we like to have fun and being a part of your celebration is a great experience for us. Our team will add the right amount of support and service to your event while providing a memorable guest experience. We can't wait to meet you!
. . .
chef stephanie
top right photo
It is an honor to be a part of the special moments in your lives, and to have the opportunity to merge my craft with your vision to create an event as unique as you are.
My culinary training is the sum of more than 25 years' experience in kitchens and restaurants, and I approach cooking with a balance of positive intention and playful ingenuity. Food activism is a daily practice, from supporting local organic farms to serving delicious healthful cuisine to clients who sincerely care about personal and global health; we are all part of the change that needs to happen in this world.
How we choose to eat and nourish ourselves has the potential to affect not only the people around us, but the entire planet, and I use only sustainable, locally available meats and fish. Vegan and vegetarian cuisine, ethnic foods, fusions, and special diets—including those with living and macrobiotic foods—are all in my repertoire.
I look forward to combining your imaginings with my inspired organic cuisine to amaze and nourish your guests.
. . .
dara santhai-sherman
operations manager | event specialist
lower right photo
Dara'a interest in cooking was nurtured at a young age by her mother, a native of Thailand, who instilled in her a great appreciation of flavorful Southeast Asian cuisine made with fresh and healthy ingredients. Having grown up in various countries, Dara felt naturally drawn to the Bay Area's cultural diversity. Now a long-time resident, she feels it's the right place to be if you enjoy food culture and having a wide variety of fresh produce and seafood. She has spent her adult life involved in the local music and arts community, and is currently an active performing and touring musician, exhibiting fine artist, and organizer of local events and art shows. When she is not playing lead guitar in heavy-metal acts Serpent Crown and Larvae, or working for the Chef Stephanie team, she can be seen behind the bar mixing cocktails at several music venues in Oakland.
. . .
gregory cox
sous chef
lower left photo
Gregory Cox is a ten-year transplant from New Orleans. He moved to the Bay Area to enjoy the healthy outdoor lifestyle and to have access to some of the best produce, seafood, cheese, meats and wine in the world. He joined the Chef Stephanie team not long after relocating and was immediately introduced to the San Francisco food scene which he warmly embraced. Greg has a diverse background in Creole cooking and loves rustic Italian and other healthier comfort styles of cooking which is a great compliment to Chef Stephanie's Contemporary California Seasonal menus. When he isn't cooking, he fills his Instagram feed with pictures of the amazing flowers he cultivates in his beautiful garden.