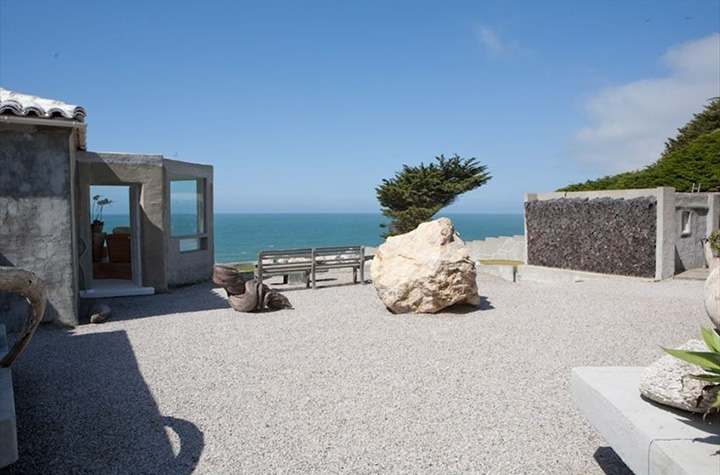 . . .
When your celebration calls for more space than your own home can provide, a unique setting, or if you are visiting the area, consider hosting your event at one of these creative bay area venues. We love these properties, and many of them include us on their list of preferred caterers.

above, Villa Montara seaside retreat
. . .
san francisco
SWEDENBORGIAN CHURCH
A national historic landmark, the Swedenborgian Church offers a non-denominational and non-discriminatory candle-lit church, gardens, and reception hall perfect for marking life's significant moments.
. . .
SUNNYSIDE CONSERVATORY
The conservatory, a hidden gem set off by a 100-year-old palm grove and lush gardens, will give you the feeling of having entered another world.
. . .
STERN GROVE CLUBHOUSE
The Trocadero clubhouse is located amid the eucalyptus and pines of Stern Grove in an unparalled outdoor setting.
. . .
THE OFFICE
The office, in the heart of San Francisco, has a beautifully handcrafted interior that combines class and sophistication in a laid-back atmosphere.
. . .
northern california coastside
PESCADERO BEACH HOUSE
With stunning ocean views from every room and private beach, this Pescadero house is the perfect spot for both stargazing and bonfires.
. . .
VILLA MONTARA SEASIDE RETREAT
Villa Montara is a secluded country retreat of minimalist luxury. The crashing waves, sea fog, and whales breaching in the distance create the ultimate coastal ambiance.
. . .
STONE HOUSE ESTATE
Located on a 40-acre property bordered by the Los Padres National Forest, Stone House is an off-the-grid home designed to maximize both privacy and ocean views.
. . .
wine country
BELLA VISTA SONOMA
With breathtaking panoramic views of the surrounding mountains, valley floor, and bay, the handcrafted Bella Vista estate transports you to the hills of Tuscany.
. . .
ALLEN ROAD ESTATE AND VINEYARD
Whether hosting a wedding in the private vineyard or enjoying a dip with friends in the heated pool, you can enjoy a dinner catered in the spacious gourment kitchen.
. . .
RANCHO WIKIUP
A former stable, built when horse racing was was outlawed, this rustic space has a private garden, covered walkways, a cobblestoned outdoor dining area and a large room for dancing the night away.
. . .
PALM VISTA ESTATE
A treasure located in the foothills of Santa Rosa, the Palm Vista offers stunning views of Sonoma County.
. . .
marin county
LYFORD HOUSE
National historic landmark and Audobon Sanctuary, Lyford House features a panoramic view at the water's edge, complete with hawks, ducks, sandpipers and heron.
. . .